We offer
"Exquisite"
Home Raised
Purebred
Biewer Terriers
Our breeding dogs are:
AKC & CKC registered,
Health and DNA tested against over 200 different genetic health conditions /hereditary diseases.
Patellar Examination and Eye Examination which all together will help us to raise the healthiest offspring possible.
Our breeding dogs also received their OFA (CHIC) Certificate.
The Biewer Terrier is an Adorable Rare Breed
The Biewer Terrier is a great, affectionate,
hypo-allergenic family dog.
Known for:
Their Whimsical Attitude and larger than Life Personality, Affectionate, Energetic, Clever, Loyal, Adventurous, Brave, Elegant, Intelligent, Devoted, Amusing, Charming, Hearty and Athletic,
Hypo-Allergenic,
The Biewer Terrier makes a Wonderful Companion!
❤The Biewer Terrier is everything you are looking for in a toy breed❤
Our purebred
Biewer Terriers
Dams and Sires
(Pedigrees and Champion Bloodlines)
Lady Robin
Robin is a purebred Biewer Terrier born in Europe and she weighs about 7 lb. She loves the younger pups and is a calmer member of our family.

AKC registered
CKC registered
Sir Riley
Riley is a 6.5 lb purebred Biewer Terrier born in Europe. He is a gorgeous boy and he knows it.

AKC registered
CKC registered
Lady Raisin
This little 7 lb missy is a purebred Biewer Terrier born in Europe. Raisin likes to be number one and tries to have the last word.

AKC registered
CKC registered
Lady Rena
Rena is a 6 lb purebred Biewer Terrier born in Europe. She is one of our smaller girls with a big dog attitude.

AKC registered
CKC registered
Exquisite's Ariel
Is the first girl born here and weighs 7 lbs. Ariel is a laid back and quiet family member.

AKC registered
CKC registered
Exquisite's Casey
Is a cuddly little girl of 6 lbs. but is quite feisty if someone wants her toy.

AKC registered
CKC registered
Exquisite's Cindy
Is a 9 lb girl which likes to be close to us and loves attention.

AKC registered
CKC registered
Exquisite's Gabby
Is a 8.5 lb girl which is a bit more reserved but loves to be close to us.

AKC registered
CKC registered
Sir Nelson
Just joined our family, he is a 6.5 lb purebred Biewer Terrier and was born in Europe. Nelson is gentle and very affectionate.

AKC registered
CKC registered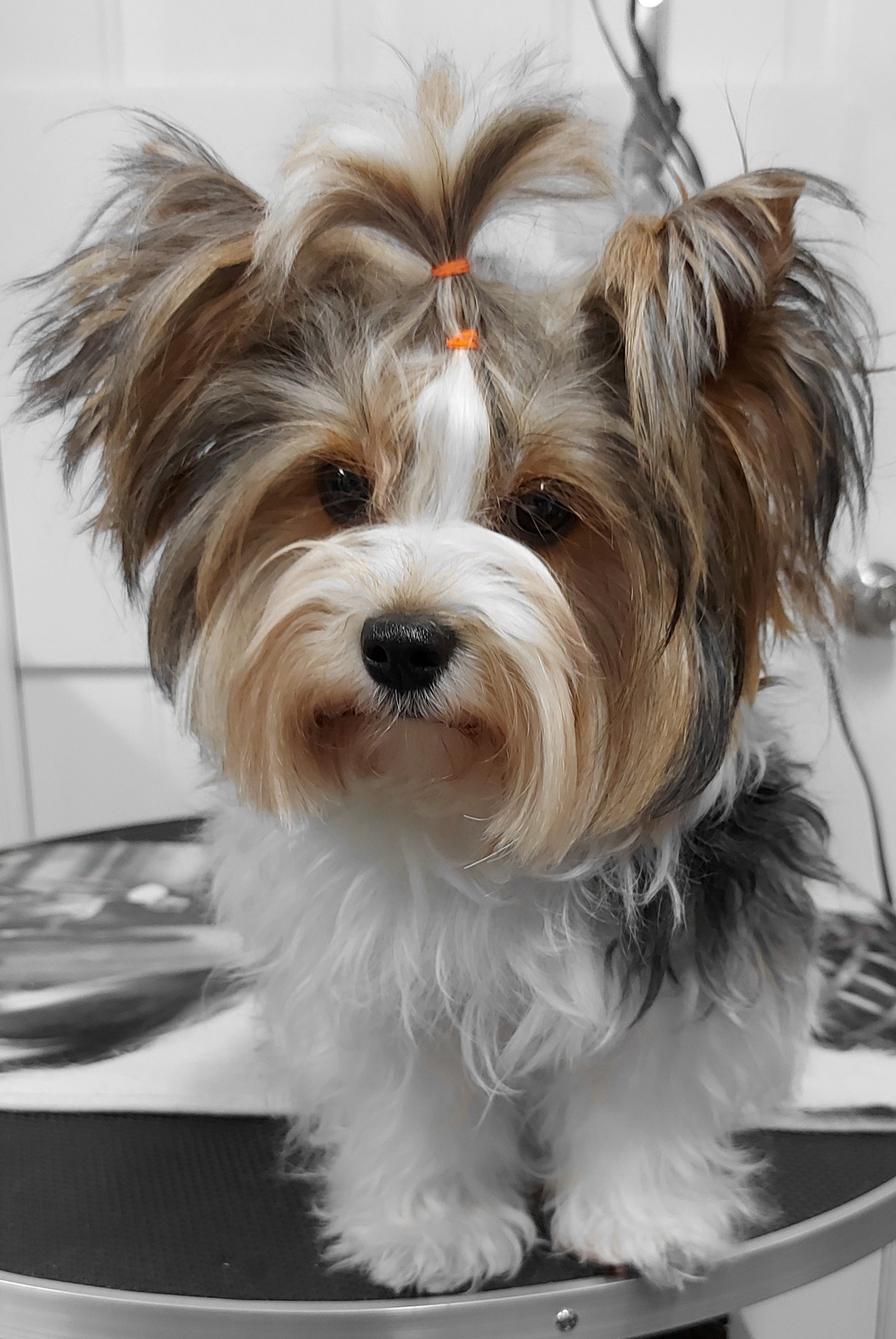 Benefits of Having a Biewer Terrier
1) Alarm
2) Bed Warmer
3) Home Security
4) Best Friend
5) Doorbell
6) Family
7) Cuddle Buddy
8) Love
9) Happiness
10) Loyalty